Product
UC-228 Automatic Inter-Fold Tissue Converting Machine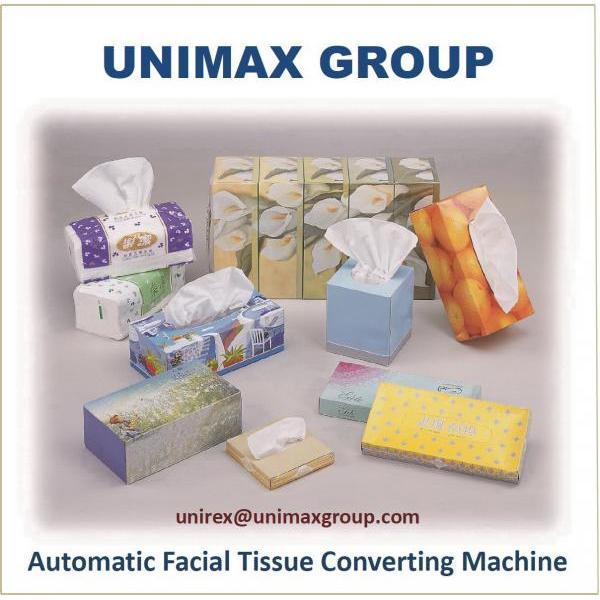 Automatic Inter-Fold Converting Machine
Product ID: Tissue Converting Sector UC-228 Series (3)
■ Automatic Facial Tissue Converting Machine
• Built-in Slitting Type.
• Down-flow Process Log Saw Cutting Type
• Down-flow Process Gansaw Cutting Type

Specifications:
■ For V-fold facial tissue / Inter-fold hand towel products
◊ Designed / operation speed: 120 / 90~100 m/min

■ Machine Included
• Parent paper lift system with air cylinder
• Paper feeding speed control belt
• By step-less speed controller
• Parent paper position(left-right) adjust wheel
• Test/adjust manual wheel
• Paper angle adjust roller with adjust wheel
• Take-off roller
• Take-off roller speed controller
• Paper pusher adjust
• Folding roller position adjust
• Separating Device:
- Counter mark printing device
- Or counter position separating device
• Emergency stop switch
• Finished paper stopper or direct feed onto conveyor
■ Optional
• Extra full embossing unit-pneumatic function system
• Extra edge embossing unit-pneumatic function system
• Extra automatic web tension control system
• Extra printing system
• Can choose converting machine to be:
- Without built-in slitting system
- Connecting automatic feeding machine and tissue cutting machine.
• Can be arranged automatic feeding
- For integrated control packing section.

■ Other Optional
Converting production lines can be arranged with integrated feeding machine and conveyor to wrapping machine or box sealing machine.
Features:
■ Features:
◊ PLC control system (PLC)
◊ HMI Inter-Faced Touch Screen Monitor

See more complete detail
◊ PLC control system (PLC)
◊ HMI Inter-Faced Touch Screen Monitor
Order Information:
Minimum Order: Negotiable
Branded Product