Product
UC-286-SV1Tissue Paper Log Sleeve Bundling Machine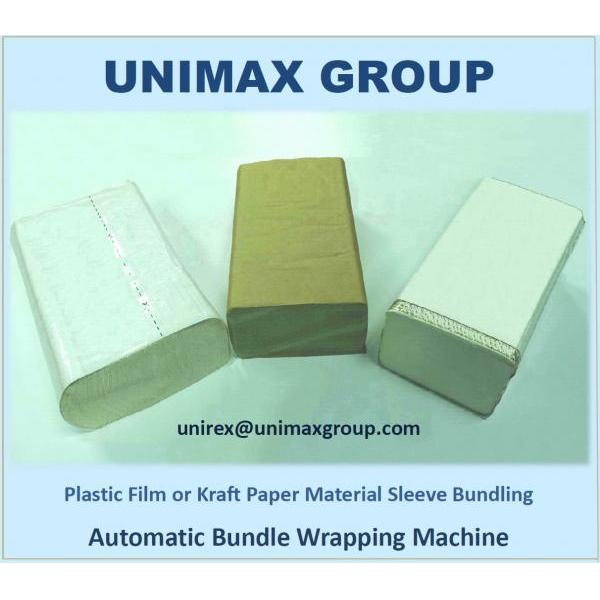 Tissue Log Sleeve Bundle Wrapping Machine
Product ID: Tissue Packaging Sector UC-286-SV1 Series (22)
■ Automatic Sleeve Bundle Wrapping Machine
- For: Inter-Fold /Z-Fold Hand Towel Log.

• Multi-Application Wrapping Material Type:
(a). Kraft Paper.
(b). Plastic film.



Specifications:
■ Specification:
■ Sleeve Bundle Wrapping Type:
• Wrapping Material:
Plastic Film or Kraft Paper or Printed Wrapping Paper
• Packing Material Size:
400 (D), Length in Accordance with Log
• Product Packing Size:
- 600/900/1310/1400/1440/1480 (L) mm
- 70/80~105 (W) mm
- 100~130 (H) mm
• Designed / Operation Speed: Approx. 10 packs/min
• Operation Speed: 4~5~6~8 packs/min depend on spec.

■ Machine Included:
• Automatic air cylinder feeding system
• Upper / lower cutting knife
• Automatic output delivery system
• Hot melt glue applicator for Kraft Paper material wrapping
Features:
■ Features:
• Servo Motor System
• Programmable Logic Control (PLC)
• Inter-faced touch screen monitor (HMI)
• Automatic built-in conveyor system
• Can be integrated controlled with whole production line
• To be used after converting and before cutting process
* The products of sample shown in photograph are for wrapping application reference only.
Order Information:
Minimum Order: Negotiable
Branded Product